Services

Filters
We service fuel filters, air filters, and cabin air filters. Let us help you maintain your car with filter services.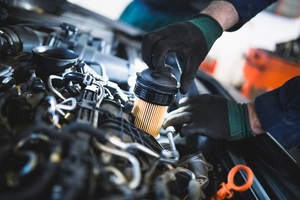 Filters are an important part of the modern vehicle. Most of your vehicle's systems have a filter, and over time those can become clogged with debris. This puts your vehicle's function at risk. We offer filter checks and filter changes for all types of filters, including these:
Fuel Filter Service
Every 15,000 miles, you should have your fuel filter replaced. The inline fuel filter keeps debris out of your fuel, so you don't lose fuel efficiency. If you don't replace the filter when it's time, you will lose fuel efficiency or hurt the fuel system.
Our technicians install fuel filters on all domestic, foreign and diesel engines. If it's time for one, visit us for help.
Air Filter Service
Your vehicle's air filter gets inspected every time you come in for service. If we think it needs to be replaced, we will show you and recommend replacement. However, we never replace the air filter without your permission. We keep air filters in stock for most domestic, foreign and diesel vehicles, so we can easily change your air filter.
Cabin Air Filter
The cabin air filter keeps debris out of the vehicle's cabin. This protects the air quality within the vehicle, so your passengers can breathe freely. When you visit for an oil change or filter check, we will remove and inspect the cabin filter, if your vehicle has one. We keep most air filters for domestic and foreign vehicles in stock, so we can change yours if need be.
No matter which filter you have concerns about, you can count on our car care specialists to help. Stop in to get your filters checked or to have them changed, and know you are doing all you can to protect your vehicle from unnecessary wear and tear.